New Galleries added 2/21/2006 .
HOW DO IT WORK?
Click any image to view that gallery, then you can click on the thumbnails to see a bigger image. This is a sampling of my work for the past couple of years.
WHY THESE IMAGES?
I selected these images because I like them. In the middle of a long working day, it makes me happy to look at them.
And it's very cool if they make you happy, too. I am all about being happy and making other people happy, too! Except maybe for extreme right-wing conservative Republicans. And people who don't write clean HTML code with properly nested tags and quoted attribtutes. And overly-aggressive, SUV-wielding Atlanta drivers who talk more than they drive.
IN CASE YOU ARE DREAMING OF FAME AND FORTUNE
Needless to say, these are all copyrighted and you can't copy them, etc.
All images © 2000-2006 V. Leanne Frank
HOW LONG HAVE YOU BEEN ADDICTED?
Here is my very first camera, given to me on my 6th birthday by my mother, who was an excellent photographer.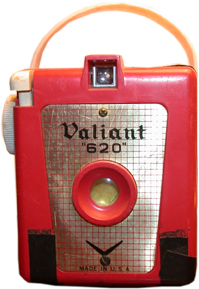 Alas, none of these images were made with the Valiant. But it will photograph again! One day soon I will order some 620 film for it, and make some very cool images that will put those new-fangled Dianas and Holgas to shame.
DO YOU USE A DISPOSABLE CAMERA?
Only on my most photgraphically-insecure days. I mostly use either:
A beat-up point 'n' shoot Canon A-95. The resolution is a little passe and it's pixels certainly don't match up with a DSLR, but I carry it everywhere and I love the little flippy screen. -OR-

My trustworthy manual focus Nikons -- an FM-2n and an FE-2. These things rock. -OR-

A Bronica ETRSi outfit. I have fallen in love with medium format black and white film, mostly Ilford Delta 100, 400 and 3200-OR-

4x5 behemoths - a Crown Graphic and a Graphic View. I am still on the steep part of the learning curve with these, but the negatives... oh - my - God --OR--

The newest tool in the bag, a Nikon D50. I confess to a lingering love/hate relationship with digital, which the D50 has done little to resolve. It sure does save time, though. And it's much better for the planet than chemicals.
WHY DO YOUR GALLERIES LOOK SO... WELL... UH... BASIC?
Hey, it was a big job to find all these images, and then to tweak them in Photoshop and upload them. I promise to code some cool-looking galleries soon. Maybe I'll add a little random-image function so you'll always get different stuff....
Or, maybe I will leave the galleries alone and get away from my desk and MAKE BEAUTIFUL IMAGES!
Peace to all.